Cyanide Barrel Copper Plating
Whitaker provides the industry's best in copper finishing. We utilize the copper cyanide process, which produces a more consistent quality finish for all applications. Typical applications include plating weld studs, brake and clutch plates, nuts and washers, and a variety of refrigeration components. Plating thicknesses range from a copper flash to more than .002 inch (50 microns) in certain clutch and brake applications.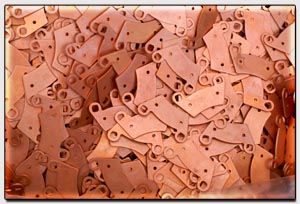 Copper Plated Brake Pad Back Plates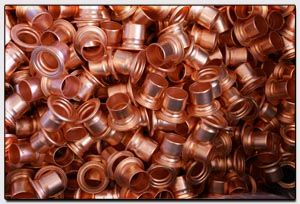 Barrel Plated Copper Suction Fittings
Whitaker Finishing provides copper plating in both barrel and limited rack applications. Our copper flash plating is also used as a base for subsequent deposits such as nickel and nickel/chrome.
Cyanide copper plating can also be used on steel substrates for prevention of carbon penetration during the heat treat process (heat treat stop-off.) The copper is subsequently stripped off following the heat treat operation prior to further use.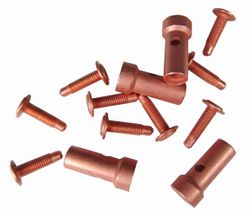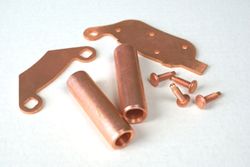 Whitaker Finishing is able to provide copper plating to meet the following specifications:
AMS 2418F
ASTM B734
ES81-310
GM-4250M
GME-00252
ISO 4042 C3J
MES CG 310D
PS-792
PS-949
PS-4935
VW 137 50
WX-100 S403
ASTM B734
ISO 4042 C3J
PS-792
PS-949
PS-4935
WX-100 S403
GME-00252
GM-4250M
AMS 2418F
VW 137 50
MES CG 310D
ES81-310
Please contact Whitaker Finishing at 419-666-7746 or fill out our online form for a quote for your copper plating needs.
A Copper Plating Company Serving Illinois, Indiana, Michigan, Ohio & Pennsylvania